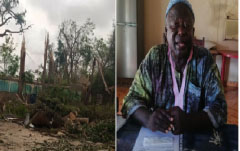 Article By: Bekai Njie
All public activities at the Njawara Agricultural Training Centre (NATC) have been put on stand till following a heavy windstorm that struck the country on 7 July 2021.
Established in 1990 as a Community Based Organisation (CBO), NATC has been operating as a fully fledged NGO since October 1997, with a total land area of six hectares suitable for agricultural production.
The center's source of funding depends on proposal marketing as all their projects are geared towards climate change mitigation mainly funded by EU, UNDP, Action Aid and JEF project.
President Adama Barrow visited the place a day after the incident to see for himself the scale of the damage and pledged his government's support to the institution.
The centre lost two of its solar panels to the windstorm and they haven't still recovered them. "We searched everywhere but we couldn't see them," said Mama M.K. Manneh, centre director, in an interview with The Point.
The Gambia Red Cross Society did an assessment on the scale of the damage and found out that about D1.6 million had perished on infrastructure. "This does not include our office appliances like laptops and desktops," Mr. Manneh said.
"It has made us not to accept any training of our beneficiaries because all the dormitories have been damaged and so we cannot bring farmers here to suffer."
Article By: https://thepoint.gm/africa/gambia/headlines/services-on-halt-at-natc-as-climate-change-wreaks-havoc